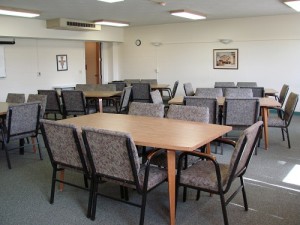 CONFERENCE SPACES:
The Portiuncula Center for Prayer has comfortable, air-conditioned meeting rooms and breakout rooms ideal for retreat groups as small as 2 or as large as 50.  Media equipment includes LCD projector, DVD/Video players and monitors, CD/IPOD players, and microphone system. Meetings room rates are $25 per person with an additional charge for beverage services. No additional fee is charged for audiovisual equipment.  Free Wi-Fi is available to all guests.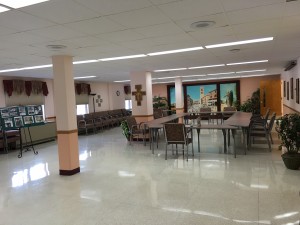 The Motherhouse for the Franciscan Sisters of the Sacred Heart has a large auditorium able to accommodate up to 250 people.  Media equipment and WiFi are available.
---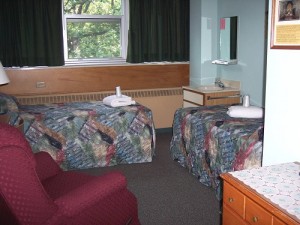 OVERNIGHT ACCOMMODATIONS:
Our Center has 29 clean, simple bedrooms to comfortably accommodate up to 50 overnight retreat guests. Each room has individually controlled air-conditioning. Some of the rooms have private bath facilities; other rooms with single and double occupancy share centrally located bath facilities. Double occupancy is $58 a person per night; Single occupancy is $68 per night.
La Verna is located in our Motherhouse and has 9 bedrooms,
all with bathrooms that have walk in showers.  One room has
a full size bed and two rooms have two twin beds.  Rooms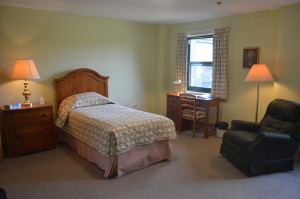 are located along a corridor leading to a community room
that includes a kitchenette, TV, seating areas, and
fireplace.  All rooms have access to WIFI.  Rates are the same as The Port.  Meals can be prepared on your own or can be
taken with the Sisters in their dining room.
DINING AREA PORT: Our warm, attractive dining room comfortably seats 50. Home-cooked, cafeteria-style meals focusing on light, heart-healthy menus are featured. Special meals including gluten free, vegan, and vegetarian can be accommodated with advance notice. Meal costs are Full Breakfast: $9.00; Continental Breakfast: $7.00;
Lunch: $11.00; Dinner: $13.00.  There is an additional $3.00 fee for special meals.
---
GIFT SHOP: Open every day is our

charming gift shop. Avail yourself of
the opportunity to pick up a good book,
a meditation CD, a Franciscan medal, a card
and other inspirational gifts.