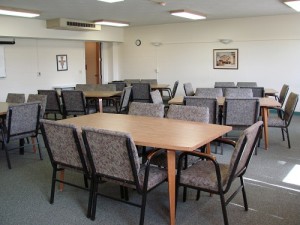 CONFERENCE SPACES:
The Portiuncula Center for Prayer has comfortable, air-conditioned meeting rooms and breakout rooms ideal for retreat groups as small as 2 or as large as 50.  Media equipment includes LCD projector, DVD/Video players and monitors, CD/IPOD players, and microphone system. Meetings room rates are $25 per person with an additional charge for beverage services. No additional fee is charged for audiovisual equipment.  Free Wi-Fi is available to all guests.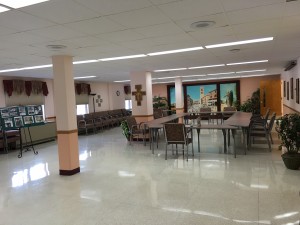 The Motherhouse for the Franciscan Sisters of the Sacred Heart has a large auditorium able to accommodate up to 250 people.  Media equipment and WiFi are available.
---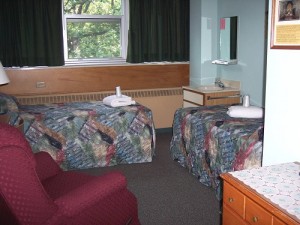 OVERNIGHT ACCOMMODATIONS:
Our Center has 31 clean, simple bedrooms to comfortably accommodate up to 50 overnight retreat guests. Each room has individually controlled air-conditioning. Some of the rooms have private bath facilities; other rooms with single and double occupancy share centrally located bath facilities. Double occupancy is $58 a person per night; Single occupancy is $68 per night.
DINING AREA: Our warm, attractive dining room comfortably seats 50. Home-cooked, cafeteria-style meals focusing on light, heart-healthy menus are featured. Special meals including gluten free, vegan, and vegetarian can be accommodated with advance notice. Meal costs are Full Breakfast: $8.00; Continental Breakfast: $6.00; $Lunch: $10.00; Dinner: $12.00.  There is an additional $2.00 fee for special meals.
---
GIFT SHOP: Open every day is our

charming gift shop. Avail yourself of
the opportunity to pick up a good book,
a meditation CD, a Franciscan medal, a card
and other inspirational gifts.